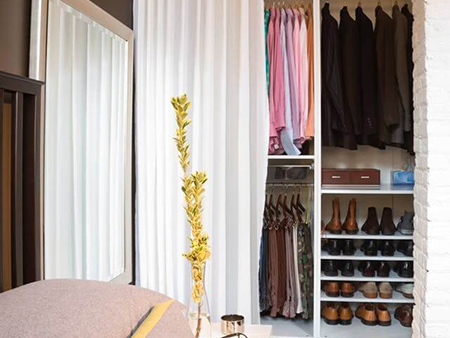 31 Jul

30 of the Coolest Closet Organizer Ideas to Kick Start Your Project

Regardless of the size of your closet, you'll eventually find out there's so much space that need to be organized. While there are cluttered drawers stuffed with random items, there are also open shelves dumped with used and unused clothes.

Then again, don't let this sight upset you. There are plenty of closet organizer ideas you can use to make sure your closet stays organized and have room for more things.
Are you ready to know some storage solution and organization ideas we have for your closet? Check these out:
1. Attach hooks on the door for hanging bags.
Don't make it a habit to leave your bags in random places at home. Arrange them in your closet by installing hooks on the closet door.
2. Use color coordinated containers.
You know what's the easiest way to choose what to wear from your closet? Organize your clothes by color. If you are hanging them, arrange them from the lightest hue to the darkest.
3. Add drawers.
Does your closet have drawers? If not, then consider adding drawers. Organize your things in there by activity. Sort the items you will be using for work, trekking, workouts, or night-outs!
4. Consider the addition of double-duty storage solutions.
One of the coolest ways to organize your closet is to use multi-purpose storage solutions. For instance, you can put a tall shelf inside that can hold several pairs of shoes on the bottom and a few accessories on top.
5. Label your belongings.
Take advantage of labels, unless you want your things to be seen cluttered all over the room.  
6. Make the most out of the available top space.
Most of us disregard the uppermost space in our closets because they are hard to reach. However, did you know that there are inventive storage boxes designed for the space up top? Use these boxes to store clothes that are off-season.
7. Install a cool mirror.
If you will install a mirror in your closet, you need not take out your clothes to see if they look great on you. That means you can conveniently put the items back in the closet after deciding if they impressed you or not.
8. Bulky clothes should be hung in smart shoe organizers.
Have you ever seen the latest smart shoe organizers? They are those shoe organizers that need to be hung. Although they sure do declutter your shoes and boots, you can use them to store bulky and thick winter coats.
9. Use shower rings.
Instead of using one whole hanger for one scarf alone, use shower rings and install them to individual hangers to have individual holders for a collection of scarves.
10. Hang a laundry bag on the door.
If you don't feel like installing a mirror on your closet door, put a laundry bag instead. That way, you will immediately know if it is time to start washing your laundry.
11. Create dividers.
Dividers are so useful as they separate two different items and keep them from toppling over.
12. Label laundry bags.
If you prefer to separate dirty clothes by color, it'd be better if you label your laundry bags. By doing so, you can save your precious time from sorting through your clothes.
13. Don't let your clothes slip.
Nothing makes your closet cluttered than the clothes that don't stay on their hangers. If you have lots of clothes organized using hangers, be sure to use pipe cleaners. Not only do they prevent clothes from falling, they also help reduce wrinkles.  
14. Take advantage of the space under the shelves.
Don't just settle with the space on top of the shelf. Place baskets underneath, so you can put more items in your closet, such as swimmies and mittens.
15. Install triangular shoe racks.
Triangular shoe racks are among the new trends in closet organization today. They are so efficient that they can hold loads of shoe pairs. Even better, they're made of pure cardboard and tape, so they are budget-friendly.
16. Sort your things by category.
This is quite self-explanatory. You definitely have to sort your things by type and not by color.
17. Conceal your closet with curtains.
The use of curtains is one of the coolest ways to hide your closet. Try it yourself!
18. Add hanger grips.
This does not have to be expensive. You can apply hot glue on top of a wooden hanger just to make them more efficient and effective at holding clothes and keeping them from falling to the ground.
19. Put the clothing rod in a higher location.
If you put the clothing rod at a much higher location, you can easily fit more clothes.
20. Do not waste space.
Just because you think that the side walls are no longer useful does not mean you let them be. Transform these spaces into something useful by creating space for hanging and keeping your sunnies and purse.
21. Install baskets on your closet door.
Make sure your closet's door space is not wasted. Add rows of baskets on the door for storing items that don't fit a hanger.
22. Organize your jewelry pieces on a thread rack.
Do you have a thread rack at home? Turn them into a classy jewelry organizer and put them inside the closet.
23. Secure suits and dresses in garment bags.
To protect your clothes from dust and the effects of daily wear-and-tear, keep them in garment bags.
24. Consider using boot organizers.
Boots are very bulky and storing them in the closet can be a challenge. Don't worry though, there is a way to keep them organized. Use special boot organizers!
25. Use special hangers.
Ever heard of special hangers? They are actually designed to make clothes more visible and easier to grab. Use these hangers to avoid creating a mess in your closet while pulling clothes.
26. Hang your purses using shower hooks.
Who knew that shower hooks can be very handy in organizing a closet space? They can be used to hang purses in the closet and prevent bag handles from being broken.
27. Remove the items that are no longer useful.
To successfully organize your closet, you need to get rid of things you no longer need to give more space for other important stuff.
28. Use office file organizers.
You can definitely get creative when it comes to organizing closet space by using office file organizers. These storage solutions are ideal for keeping wristlets, watches, and clutches.
29. Keep your caps together with a cap rack.
Give importance to your hat collection by using cap racks in your closet.
30. Make your closet space more you!
Add a mirror or pieces of art to your closet, but don't just put stuffed animals in there. They'd only catch dust and dirt.
Now, are you ready to organize your closet once and for all? If you truly want to maximize your closet space, consider the ideas we have above.