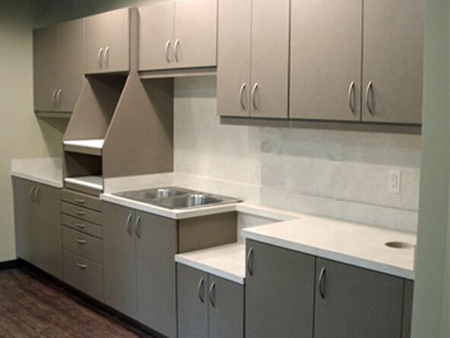 18 Jul

Custom Dental Cabinets: Should You Get One?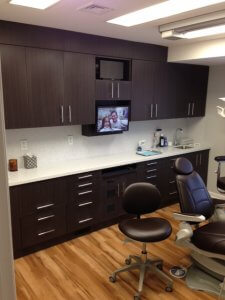 When getting dental equipment and tools, particularly dental cabinets, dentists often have the option to either purchase a ready-made cabinet or call a local cabinet maker to design and create a custom dental cabinet based on their needs and preferences.
Considering all the expenses involved in dental practice, it is not surprising why most dentists weigh their options first prior to buying a dental cabinet.
Stock Dental Cabinets vs. Custom Dental Cabinets
To help you decide whether or not to buy a ready-made or a custom dental cabinet, let us first consider the pros and cons of the two.
The Pros of Buying Stock or Manufactured Dental Cabinets
They can be bought from different stores.

They come in a wide range of options and prices.

They can be easily cleaned.

They can withstand everyday wear and tear.

They are designed for multiple needs.
The Cons of Buying Stock or Manufactured Dental Cabinets
They don't always fit a room size.

If last minute design changes are applied, they can become more expensive.
The Pros of Purchasing Custom Dental Cabinets
They can be made more affordable, depending on the requirements of the dental office and the materials used by the builder.

The finish and color options are limitless.

They can be made to fit even in the most unusual spaces.

A dentist can be involved in the designing process.

Design changes can be addressed and applied quickly.
The Cons of Purchasing Custom Dental Cabinets
They can be difficult to relocate.

The resale value might be lower than the manufactured ones because they're designed to fit a certain space.

The use of special materials can increase the cost of the cabinet.
Why Work with a Local Cabinet Maker?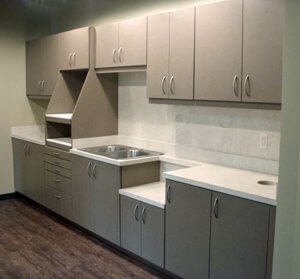 If you ever plan to have a custom dental cabinet, it's probably a great idea to work with a local cabinet maker. The reason is simple: working with them is a lot more convenient.
But of course, you don't just choose a local cabinet maker just because they make cabinets. You also have to consider the quality of their work. Reputable cabinet makers understand that quality is the core of their profession. If they can't do quality dental cabinets, there's no point wasting time with them.
By researching ahead and seeking recommendations from colleagues and friends, you can easily identify the best local cabinet makers. Once you have your choice, be wise and ask these questions:
1. Do you make all parts of the cabinet, including the doors, or do you source them somewhere else?
Reliable and professional dental cabinet makers should make everything from scratch. They should not risk their reputation by including a mass-produced product in their cabinet designs.
2. Do you do the finishing touches?
Although some cabinet makers contract other companies to do the finishing work, others do it on their own. As long as they have a quality control team to check the overall quality, there will be no problem.
3. Do you only make custom cabinets or do you also accept other woodworking projects?
If you are dealing with a professional cabinet maker, you will receive a positive response. If a local cabinet maker is very passionate about his work and is skilled at what he is doing, then he'd definitely keep everything under the roof.
4. Do you have a showroom I can visit?
The answer to this question should be a yes. However, do not expect their showroom to be very spacious and tidy. In most cases, you will see a space with all the evidence of their professionalism, experience, and skills.
Stock or Custom Dental Cabinet: Which One Should You Get?
At this point, you need to make up your mind and decide whether you'll get a stock or custom dental cabinet. Well, the decision is yours to make. But if you'll ask our expert opinion, we'd suggest you go for a custom dental cabinet and have it made by a local cabinet maker. With that, you'll be confident that your cabinet fits, not only your space, but also your budget.